Additional DA for Central Government Employees
Good news for Central government employees, Centre is planning to once again hike the Dearness Allowance (DA) of Central government employees.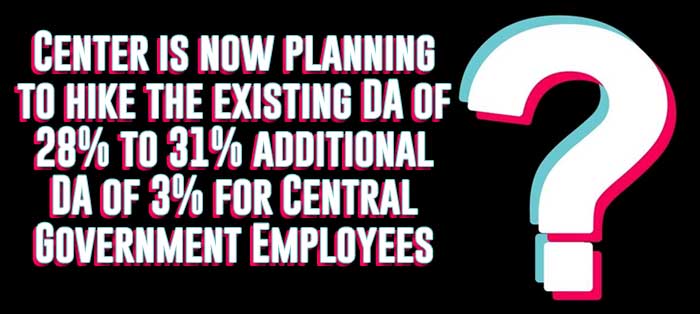 It may be remembered that the central government recently granted a salary increase for central government employees, bringing the DA to 28%. According to rumours, the Centre is reportedly considering raising the DA to 31%. The DA was previously set at 17%, however, it was raised to 28% in July. The increase in DA is significant since it is directly related to salary, and an increase in DA means that central government employees' salaries will increase overall.
Dearness Allowance Hike – Salary of Central Government Employees Likely to Increase Again
The DA has previously been enhanced by the Centre in January 2020, when it was increased by 4%. This was followed by a 3% increase in June and a 4% increase in January 2021. Notably, the DA raise for June 2021 has not yet been finalised, although the AICPI June figures suggest that the DA will rise by 3%.
For the period between January 1, 2020, and June 30, 2021, the Centre has previously said that it will not pay any DA arrears.
Because of the Covid-19 epidemic, the DA hike was put on hold for around 18 months. Following the lead of the central government, a few states have opted to raise their DA rates for government employees.
Revised rates of Dearness Allowance to Central Government employees w.e.f. 01.07.2021.
A few days ago, the Ministry of Finance's Department of Expenditure issued a memorandum regarding the revised DA rates for employees of the central government and central autonomous bodies.
According to the data of AICPI, there is going to be a 3% increase in DA in June 2021 under the 7th Pay Commission. If this happens, then the total DA will increase to 31% which will be paid with the salary of September.
Salary hike calculation on basic pay
According to the 7th CPC Pay Matrix, the salary range of Level-1 of Central employees ranges from Rs 18,000 to Rs 56,900. Meaning the minimum basic salary is Rs 18,000. If we base our calculations on the minimum salary, this is how much increase will be seen in September.
Calculation on 31% Dearness Allowance
Now, if the Dearness Allowance increases by 3% in June, the total DA will increase to 31%. The total yearly dearness allowance on a basic salary of Rs 18,000 is now Rs 66,960. However, when it comes to the difference, the annual salary rise will be Rs 30,240.
Basic salary of the employee Rs. 18,000
New Dearness Allowance (31%) Rs.5580/month
Old Dearness Allowance (17%) Rs.3060/month
Calculate the difference: 5580-3060 = Rs.2520/month
Increase in annual salary 2520X12 = Rs 30,240
Via: DNAIndia